This is the craziest ride I've ever setup, done, survived, etc. For this trip, I needed to rent a bike. Gary, my co-working and good friend, was hyped on finding a bike shop near our hotel. Given that we already decided to do at least 1 ride, this seemed like a good idea. We got a few results on google maps just 0.5 miles from the hotel.

Is it possible to get lost with google maps? YES...like VERY yes.

45 minutes into our hunt for the bike store, which was roughly 3 blocks away, a little rain (more like a light flood), a stalking Tuk Tuk driver trying to scam 2 extremely tall nerdy white boys, and dodging traffic (apparently cars have the right of way) we finally found it.

It was literally a bike shanty.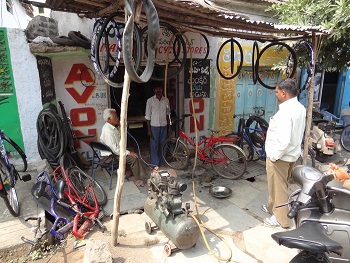 That's OK though. This is where the adventure took a turn for the best! We did some more google searching and looked at the shop pictures before hand and found one on OMR (Old Mahabalipuram Road). I should mention at this point that buildings don't have addresses like we know them, it's more like "The building on OMR next to the lamp post and across from the church." Getting lost was a possibility. We weren't going to risk it so we hired a Tuk Tuk (not the stalker dude). Best decision EVER! Not to mention very fun.

We finally reached Pro Bickers on OMR, owned and operated by Suresh Kumar. Dumb luck found us. That day they were having a antique bike show, something they did about once a year. We talked to a bunch of older guys who had bikes from the turn of the century through WWII which had gas lamps for lights and leather seats. One bike from WWII similar to a fold up bike which they used to parachute out of planes with.

We made our way into the store and the first thing that came to my mind is Dave Lettieri's bike shop back home. The owner is the nicest guy you could ask for, Suresh Kumar. He's an avid cyclist and travels the world when he's not working. He was very excited to rent us 2 bikes and even gave me his personal bike. He was so honored to have us in his shop and enjoyed biking as much as Gary and I that I gave him my Fig Mtn. race jersey. Hope to see him again someday.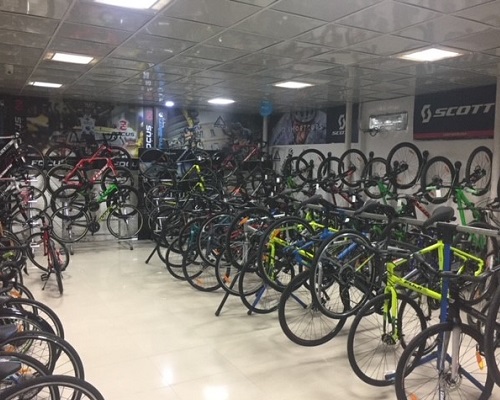 Pro Bikers : We finally make it to the bike shop via a Tuk Tuk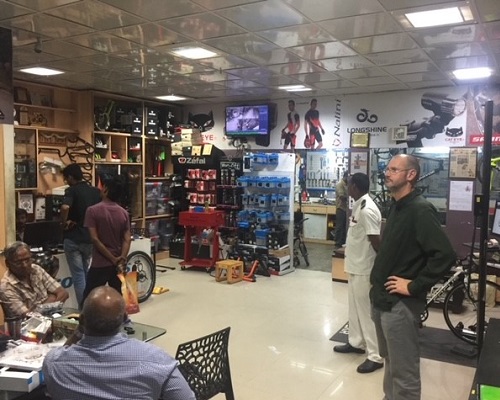 Renting a Bike : Waiting to see if they have 2 bikes our size. Not too many 6'3" guys running around India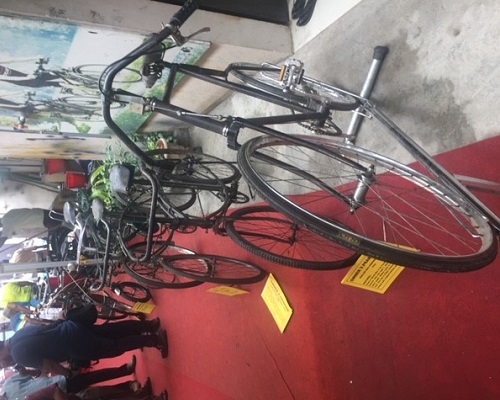 Bike Shop Show : We happen to show up on a rare day they were having a classic bike showing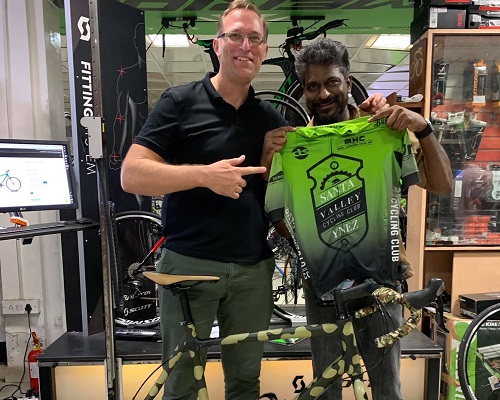 Suresh Kumar : Holding up a Fig Mtn racing jersey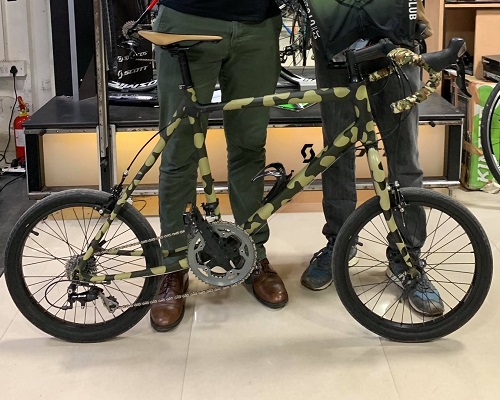 Suresh's Hot Rod: Custom bikes built for Pro Bikers
So we had our bikes but we had one little problem, Tuk Tuks are way to small for 2 bikes and 2 tall guys. I've heard they fit 6 people in those which I still can't believe. Luckily our hotel shuttle friend Praba, another amazing guy, said he would come pick us up. We met him the night we got there and when he was working we'd only ride with him.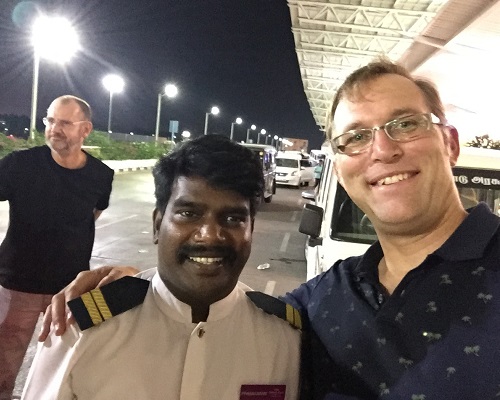 The ride day finally comes and lets just say getting out of Chennai is no less than an Evel Knievel suicide mission. Unfortunately there are 2 types of speed traps: cows and movable steel police barriers. We had to stop a few times for cow crossing but the worst happened just a mile from the hotel. Gary and I were riding in the "bike lane" (those don't really exist) where there was a 3 foot gap between us and the medal police barrier. Some dill weed on a junky scooter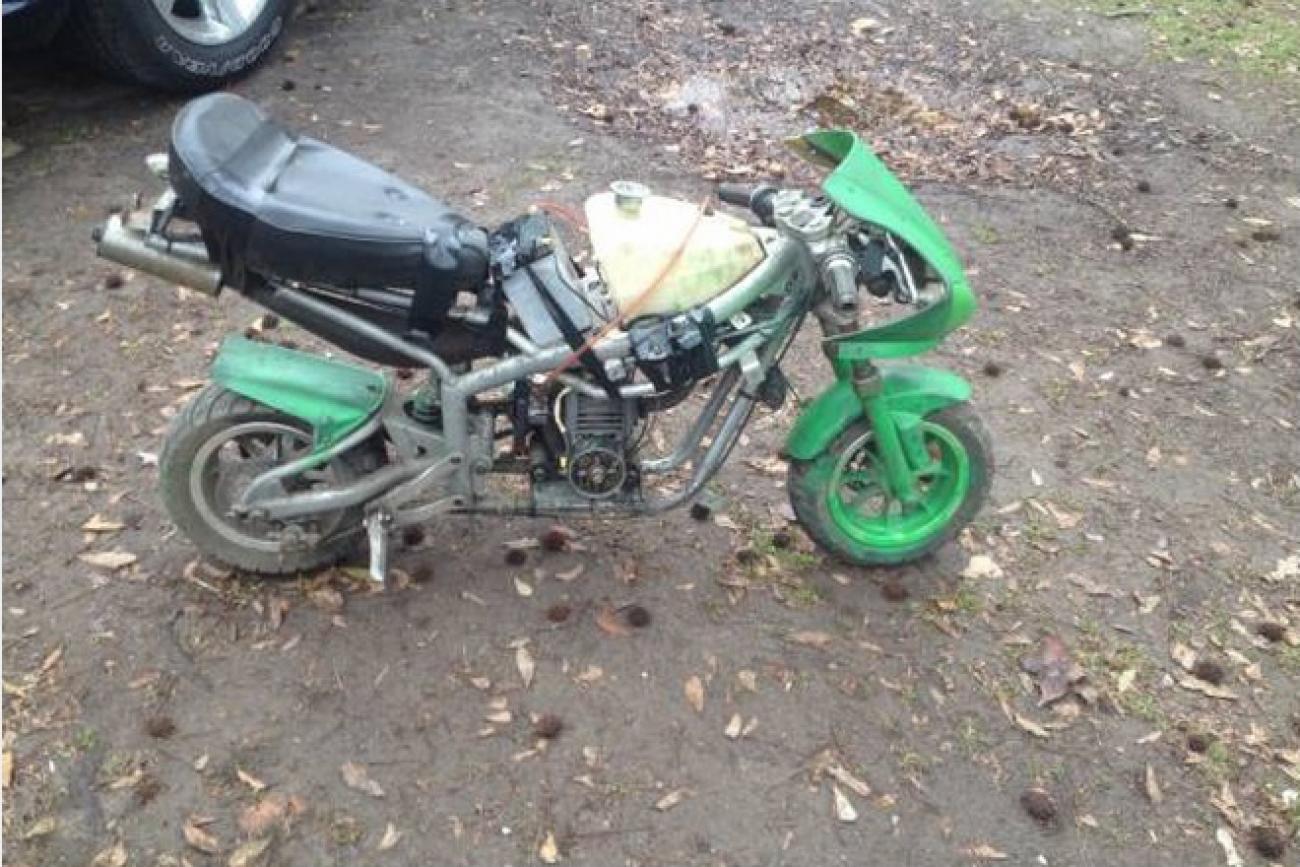 knocks the speed barrier right in front of me. I wish I had a picture because the bike and I were seriously messed up. Police and insurance are pretty non-existent so getting Suresh's reimbursement wasn't an option. Any normal human would turn back and soak a few in the hot tub.

HELL NO

Mission is already in progress, a soldier doesn't pack up in the middle of a battle and head home. At this point the bike had a bent front rim causing the brake to be completely useless, so we unscrewed it and hung it over the handlebars. Not much I could do about the massive welt that was on my right leg, just needed to ride it off. Once we were out of town, other than the occasional cow crossing, the ride was beautiful, even the road was smooth in some parts.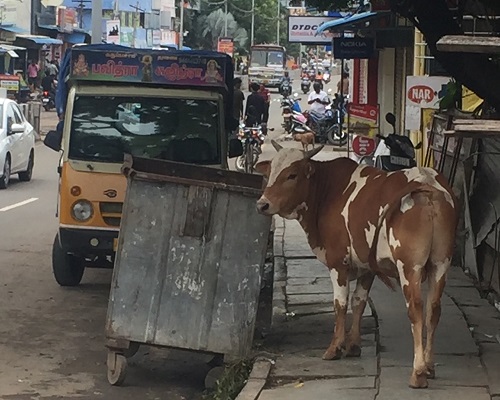 Speed Traps : There are cows everywhere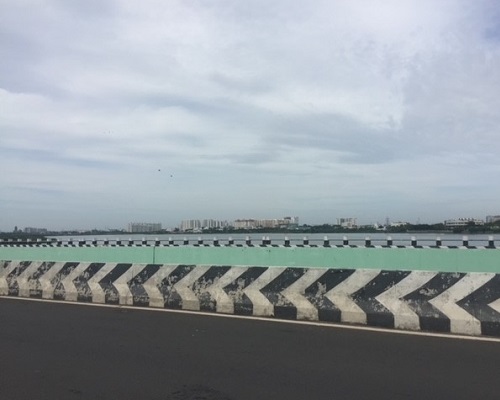 Smoothest Road in India : Beautiful scenery on the way to Mahabalipuram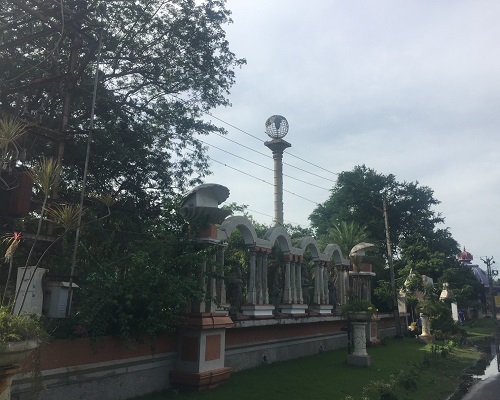 Old Abandon Temple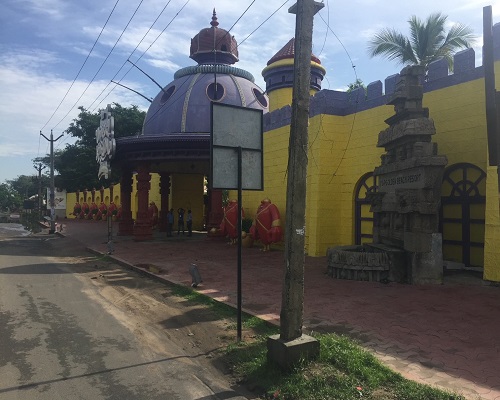 Old Abandon Temple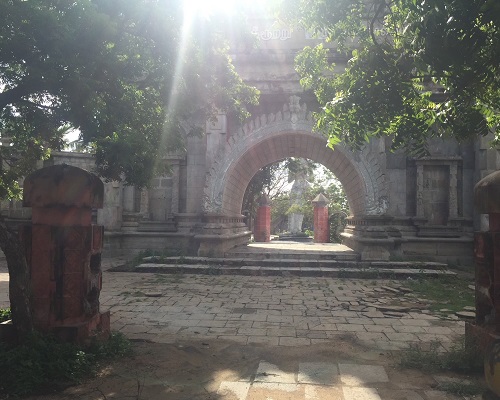 Old Abandon Temple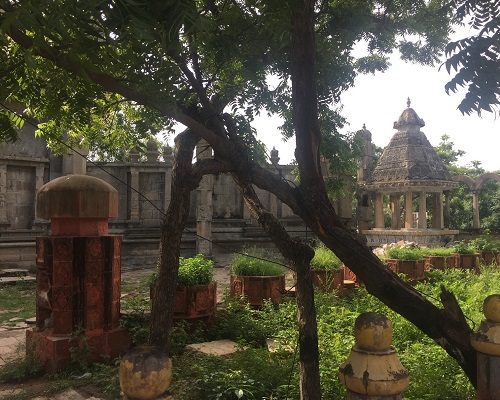 Old Abandon Temple
We finally reached our destination. It was only 90°F and 80% humidity, no sweat. Longest 35 miles I've ever ridden. Our destination was Mahabalipuram (map). To be honest we thought it was going to be a little bigger. Comparing this to a cathedral in Europe, this was just a few square feet smaller, a lot smaller. It was a very popular spot. We met some really nice families and shared stories and explained why we looked like were were from another planet.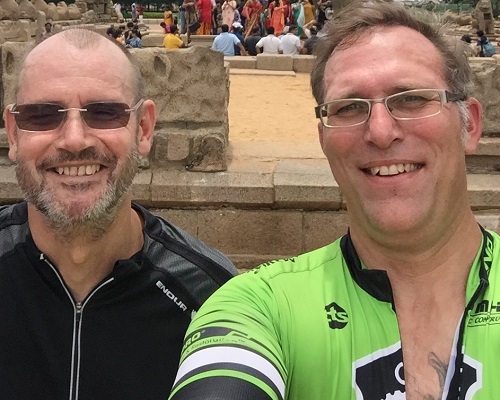 Gary and I : Entrance to Mahabalipuram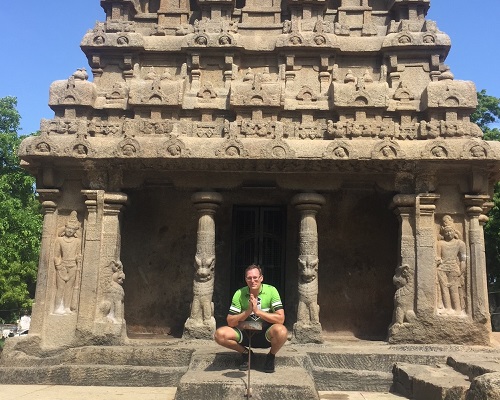 Praying for Safe Travels : Hoping the ride back won't be as treacherous as the ride to, had to pray to Sheba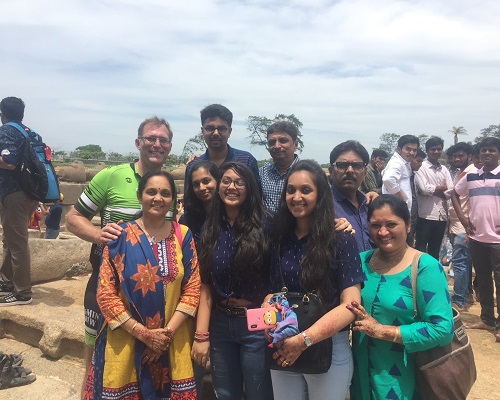 Wedding Family : Really nice family who'd daughter just got married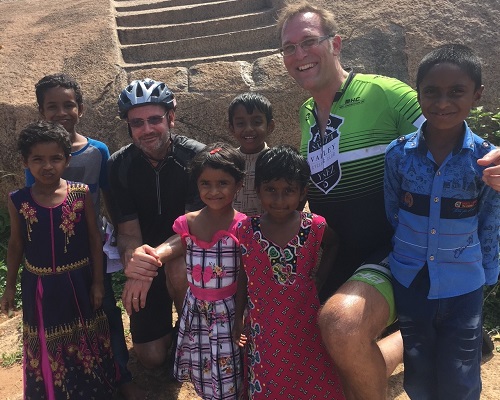 Family : Amazing kids. They asked so many great questions as did we
After touring Mahabalipuram for at least an hour or more, we had to check out the gift shop. Unlike America where all gift shops are lined with cheap Chinese nick knacks, they had real Indian made items and handmade. The best part was the medicine man in the back room. There were a lot of shakra stones and this guy was totally into his medicine. We headed back to a room deep into the building; was kind of eery for a moment. Once we arrived he pulls out a brass singing bowl. Good thing because my bruised thigh was killing me.




By now Gary and I were famished and we still had Krishna's butterball to lift up. Apparently 100s of elephants could not do it but we did. We indulged in a local who steered us to a seafood restaurant near the water. I'm so glad we followed this guy through town as there was nothing better than a cold beer and some fresh seafood. The view was amazing and the place was all to ourselves. This by far was one of the best lunches I've had, good company, relaxing, fresh food, and scenic views. We ate fresh snapper, a lobster, a side of fries (for the carbs) for roughly $15 for 2.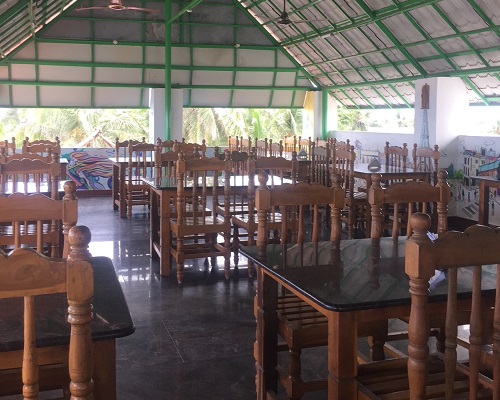 Gary and I : Entrance to Mahabalipuram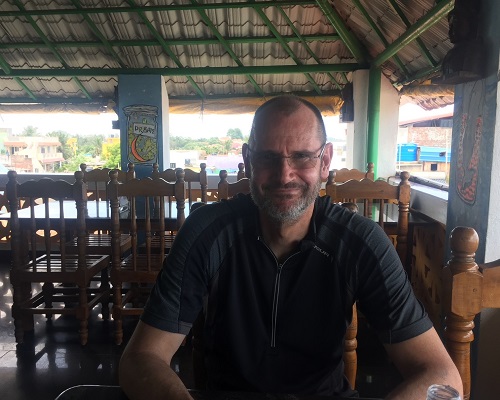 Praying for Safe Travels : Hoping the ride back won't be as treacherous as the ride to, had to pray to Sheba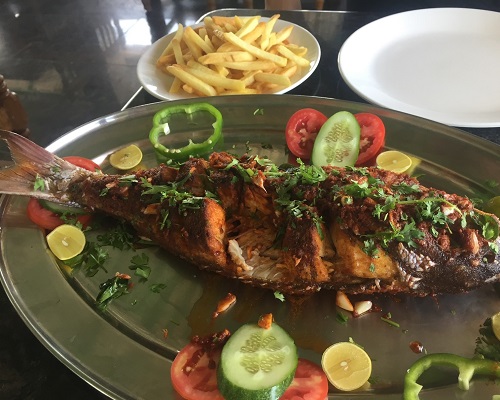 Wedding Family : Really nice family who'd daughter just got married
Family : Amazing kids. They asked so many great questions as did we
To finish up our epic trip, we had to lift up Krishn's butterball. Apparently, Krishna's a bit of a playboy and eats a little too much. This rock is HUGE! And its resting on the space of a quarter, how the heck is this possible??? Either way, Gary and I figured it was worth standing under it even it it did crush us like an ant. I needed the lady in the orange to me help out, wasn't feeling it that day.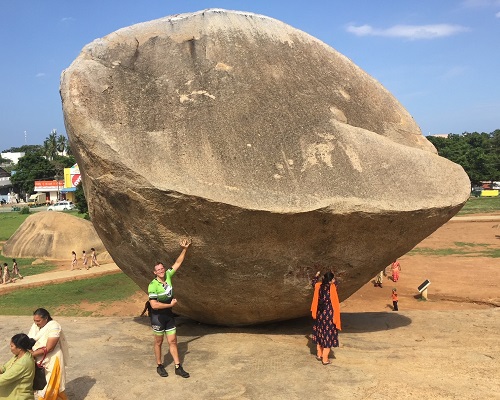 After and exhausting but adventurous day in Mahabalipuram, we headed back. Luckily we knew what to expect on the way back, we dodged city buses and kept an eye out for cows. Even after eating the most amazing lunch we were still starving. There was this little bar in the hotel that always seemed closed. Given that were were too tired to think much, we meandered into the darkly lite bar and asked if they served dinner. To our luck the did and not only that the chef was a special guest. Once again we had a place to ourselves! This is one day I'll never forget, thank you Gary.