Like my European Trip the unexpected adventure started before I even left the house. I'm dedicating this ride to the late John Jones, one of the best wheel builders who passed away unexpectedly in 2021 due to cancer.
Sometimes life has less than a degree of separation, a fiber that connects unique people in mystical ways.
How did I get roped into driving to Idaho for a ride I didn't know much about? Well my long time friend, (Bionic) Bruce Johnston, calls me up one day and says he signed up for a 56 mile ride in Idaho and I'm going with him. How could I say no? And there's a few unknown factors at play: 6,000ft base altitude and lots of dirt roads. Two things Bruce has never done, this adds to the allure. The ride was three months away, time to get riding.
John Jones
As the weeks close in, I knew that I needed my wheels trued. The only person I would take my wheels to is John Jones. John just moved his shop from Goleta CA to Buellton CA, bought a house with his wife, and was only 5 minutes from my house. I couldn't believe it! I stopped in and chatted in person while he showed me his new shop setup, he couldn't be happier. A few weeks go by, and I pick up the wheels, little did I know that was the last time I would ever speak to him. John is the kind of guy that will go more than the extra mile for you. He points out that my rim has a tiny crack in it but is confident I could ride on it for a while until he can get a new one, keep in mind COVID made it impossible to get any bike parts.
I rode John Jone's memorial on his wheels and I was determined to ride Rebecca's Private Idaho as well. John held me together, if it weren't for his precision and passion, my ride would have come apart as we shall see. John I will miss you dearly.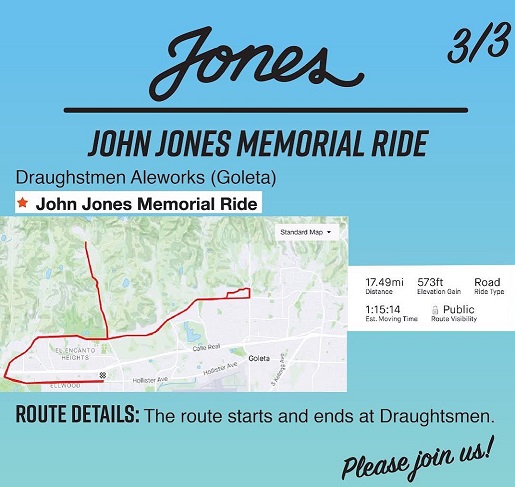 John's Memorial Ride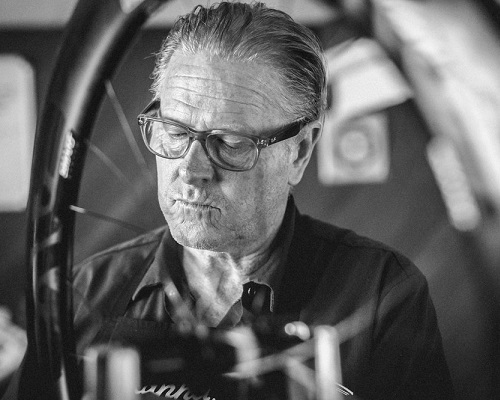 John Jones
Visiting Dad In Vegas
Yes, that is right, the first stop of the trip is Vegas. Bruce's wife Diana's dad and brother live there so we hitched up at the Grand Hotel near Fremont Street. It was a late dinner, hot out, and all around great time to be in the city that never (never) sleeps. We spent some time with pops, which was great. Before we arrived, Fleming, Diana's dad, had a drink at Hog's and Heifers and was now a local celebrity.
After dinner, Bruce, Diana, and I had a drink on Fremont Street. The old town is much cleaner than I had remembered and so vibrant. We walked Fremont Street for a bit, and ran into group of young couples, one of which was working on a bet to trade his shirt 4 times with random people; Bruce and I had to take a pass. It was entertaining to watch. In addition there is a huge stage where a DJ was playing some great mixed music.
Bruce and Diana headed back to the hotel, I heard the DJ say a band was coming on in 15 minutes. It's not often I get to concerts anymore so I was curious what it was. I stroll around a Fremont and check out all the street vendors while I wait. When I came back the band, Alter Ego was warming up. Wow, the guitarist sounded amazing just warming up! I had to see what songs they were going to play. They're a cover band and from the first through the last song they played, it was just as good or better than any concert I had been to (U2, INXS, Def Leppard, Brian Adams, etc.). Here are a list of some of the songs they played, and they nailed them all! An the best part, it was FREE!!!

Queen
Who
Bon Jovi
Peter Frampton
Fleetwood Mac
Oingo Boingo (Dead Man's Party)
...and many more classics
The Drive to Idaho
It's hard to imagine what could top a free concert on Fremont Street, how about a 600 mile drive in the middle of NOWHERE to Idaho. The US-93 is a one lane each direction with a million trucks, 70mph highway straight through Nevada with literally nothing. I would lying if I didn't say we topped 100 more than a handful of times and to top it off we were almost stranded without gas. Bruce was driving the first leg and the car's reserve tank light comes on (probably should have topped off in Vegas...lesson learned), that's about 40 miles before the engine's sucking fumes and dies. Diana's phone said there was gas station in 20 miles in a little town of nowhere. By the time we get there the little gas station was only a little snack shop like the kind you would see at a high school football game.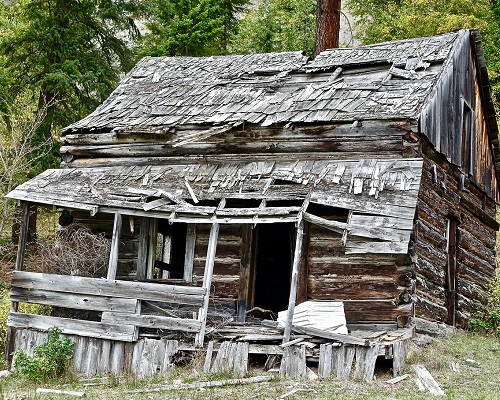 Diana's Google Map Gas Station Which Ended Up Being A Snack Shack
Bruce calls out "Diana we need to find a gas station otherwise we'll be peddling our way to Idaho." Diana's response "Honey I don't have any cell service." This is when the oh shit meter starts redlining. Luckily I had 1 bar (Verizon, I guess the commercials are correct) so I search for gas stations. One pops up 5 miles away...and the picture of the station does NOT show a gas pump, only a desolate run down motel, perfect. It was jackpot odds. 5 miles of anticipation makes you nervous. We pulled up to this middle of nowhere dirt lot that had a run down motel, an abandon looking cafe, a massive military truck, a cowboy and a dog, and 2 gas pumps likely from 1980 which may have pumped desert sand. Fortunately real gas came out, and if it was $5 or $50 a gallon, we were pumping. From then on, we topped off at any station we could find even if our tank was nearly full.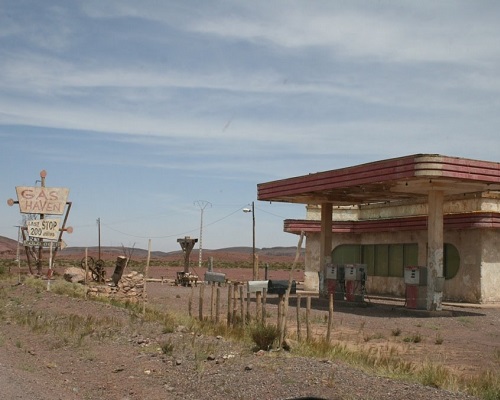 The god Send Gas Station In The Middle Of Nowhere
This was the most boring drive we'd ever been on. The closer we got to our destination the longer it felt. Overall it was 10-11 hours on the road. The last 12 miles took almost an hour due to work traffic and road construction, ugg. We finally pulled into Ketchum Idaho completely exhausted. We were staying at a really cool place called Pennay's At River Run.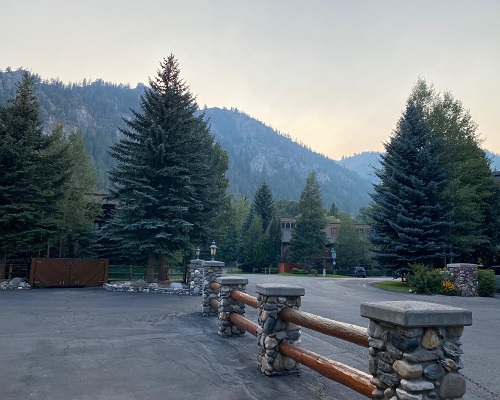 Pennay's At River Run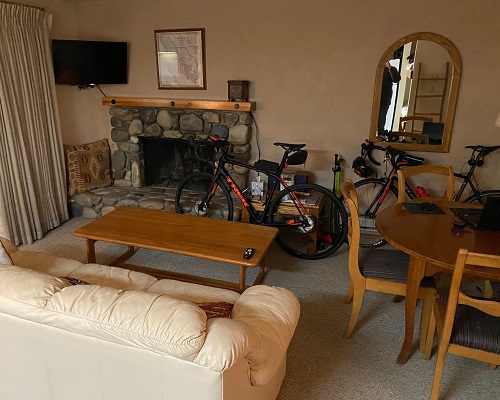 Cozy Living Room At Pennay's At River Run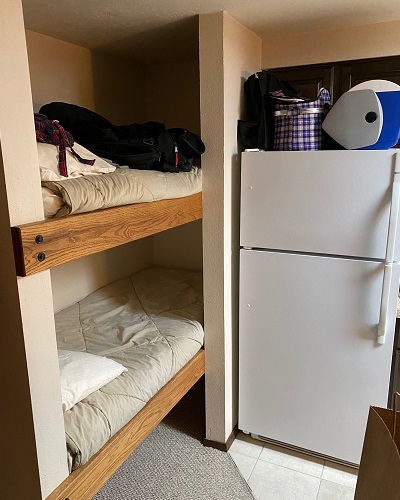 My Little Nook Next To The Fridge - Easy Beer Access
That night we ate at a local place right on Main Street called Warfield Distillery & Brewery. Diana, being 100% Danish, was all excited over the pickled herring which was actually pretty tasty. Bruce and I had normal food. Our waitress, Marion, was one of the best servers we'd ever had; very polite, recommended things based on actually knowing what they were like, and timely even though she was managing a handful of large parties. Ironically, Marion was not from Idaho but from France. As we were handling the bill, we got to talking about France. I work with InfoGenesis, a Point of Sale company, and one of our customers is Disney Paris. Recently I had been helping their IT re-open operations post COVID and got to know one of their head IT pretty well. I was trying to explain to Marion the town where he lived and at the moment all I could say was the town is a cheese but blanked on the name. I sputtered a few attempts then Marion said "Coulommiers! My parents live there!". What are the odds! She said the cheese in Coulommiers is outstanding. I look forward to another bike trip in Europe.
Thursday - First Full Day In Ketchumh
We got to Ketchum a few days early to ensure we could acclimate to the altitude. I had to work Thursday and Friday so Bruce and Diana checked out the town while I was working. I usually try to get a lunch ride in during the day, so Bruce came back round noon. Thanks to Bruce the place we were staying at, Pennay's at River Run, was right next to an amazing bike path (the kinds that California needs more of). We suit up for our first ride and hit the bike path. Prior to leaving I had asked Bruce and Diana if they had talking to any locals and got any tips for things to do, their answer "No, we got our car washed".
We ride about 4 miles on the bike path until it ends, and I convince Bruce to keep going down this road to who knows where. Eventually there are barely any houses, no cars, and no people. We eventually see a couple of guys standing on the side of the road. I suggested we ask them where this road leads. The gentleman puts out his hand and says "Hi, I'm Neil. I'm kind of the mayor of Ketchum." WHAT??? The first person we meet from Idaho is the mayor of this town! Of all people, the mayor. Bruce doesn't believe it and thinks he could have easily said he was the President. He tells use about the natural hot springs down the road we're on and that the road goes on for at least another 30 miles, but all dirt. Given that Rebecca's Private Idaho has a lot of dirt we checked it out. This was Bruce's first dirt experience and it was a doozy, on the way back there was a lot of washer board which caused Bruce's water bottle to fly off his bike.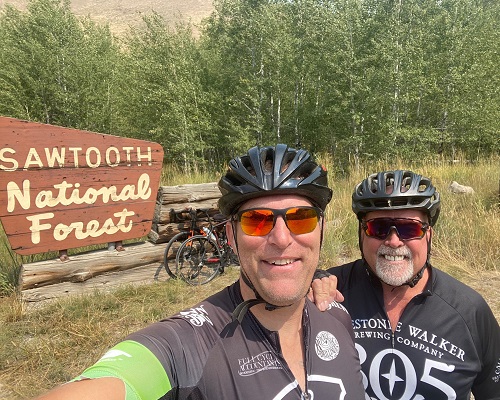 Our First Ride In Ketchum Idaho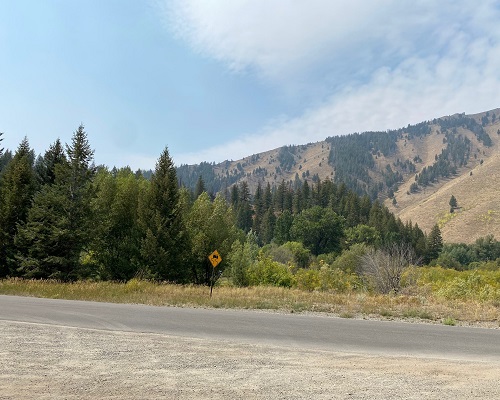 Beautiful Canyon Views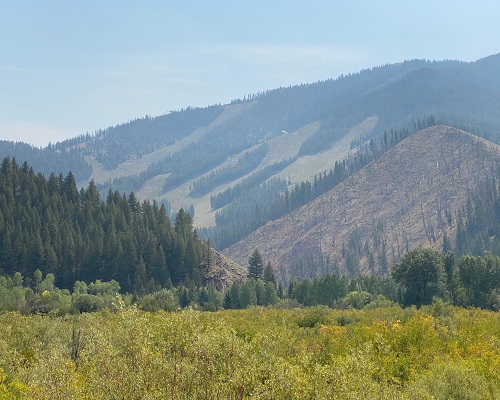 Ketchum Ski Slopes On The Hillsides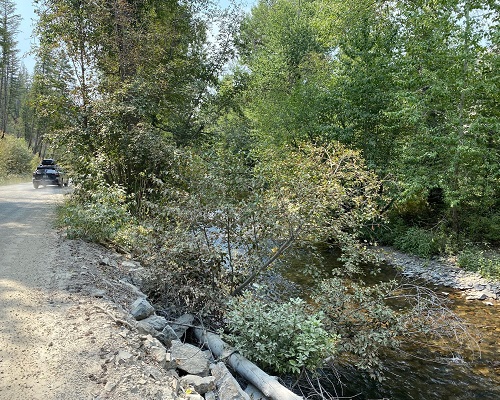 Creek Goes On For Miles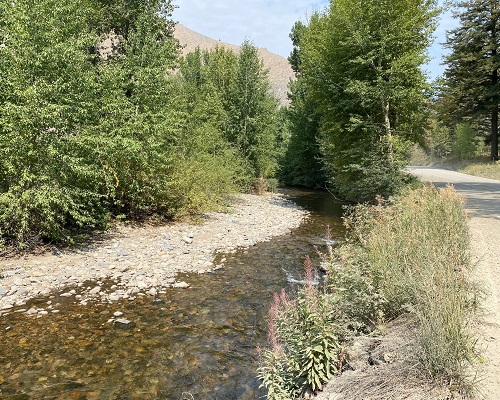 People Were Fly Fishing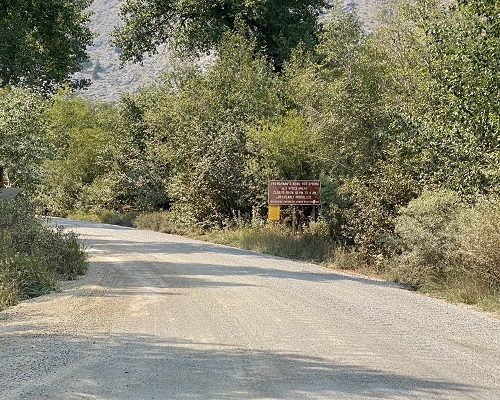 Washer Board Was Intense
It was time to have a beer! On the way back to the condo, we found a really nice brewery, Sawtooth Brewery. We took a moment to look up the mayor of Ketchum and sure enough Neil was the mayor. While we're sitting there, a local gentleman see's Bruce's jersey that says "Firestone 805, "I really like that 805. You guys from Santa Barbara?". Yes we are, and he continues to tell use he'd lived there for 30 years. How many more random connections will we make?
I worked late that night, roughly a 12 hour day :(. Since California is an hour behind we're not too exhausted so we open 3 bottles of good red wine I had brought and did some wine tasting, after finishing the growler of excellent beer Bruce brought. We talked about the day and what was ahead. I really look up to Bruce in many ways, he's 65 and a beast on the bike as well as really hard working professional (physically and mentally). He's never seen me work before and pays me one the deepest compliments I've ever heard.
Meanwhile, the clock says 9:30 and we still haven't eaten. We head to the limelite hotel just a few blocks from our place; this would be our go to place. The bartender politely informs us that the kitchen had closed at 9pm and that the last call for a drinks was in 15 minutes. He says the only place really open is a few bars which might have food. We head over to the Casino Bar which is packed but no food! Luckily across the street I spotted some food trucks so I run over, they were closing in 10 minutes! I order Tachos (tater tot nachos) and poutine, great dinner food. We were so hungry it didn't matter, a few beers and that food was gone.
Bruce and Diana headed back to the condo while I finished watching the Boisse vs Fresno football game and looking through my work email. As I was about to leave who was standing across from me, the waitress from the Warfield Marion and her boyfriend! What a small town. I stayed a little longer and talked to some of the locals about what there is to do. If I weren't working Friday I would have checked them out, very pretty country side.
Friday - The End Of The Week
Friday was the same routine, tons of work. Bruce came back for lunch but this time we wanted to check out part of the route of the Sunday event. We rode up Sun Valley all the way to the road closure point which was still pavement. A lot of nice resorts and outlying country side. Eventually Sun Valley road turns into a national forest, there was even a skeet shooting range along the hillside! Loads of camping and a river to catch trout. We put in another good 20 mile lunch ride.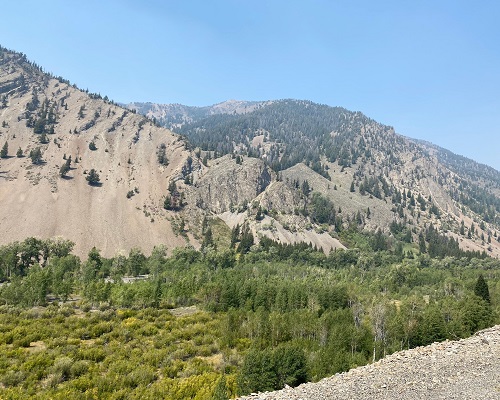 Sun Valley Road Out Of Town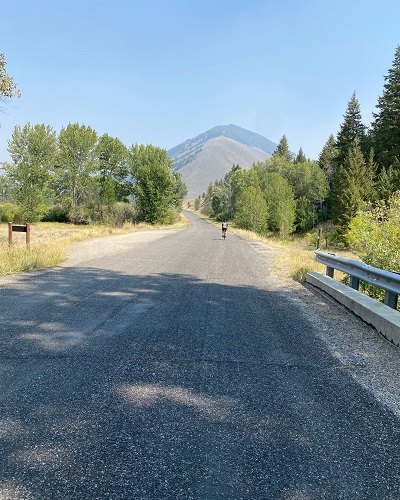 Bionic Bruce Turbo Dieseling Away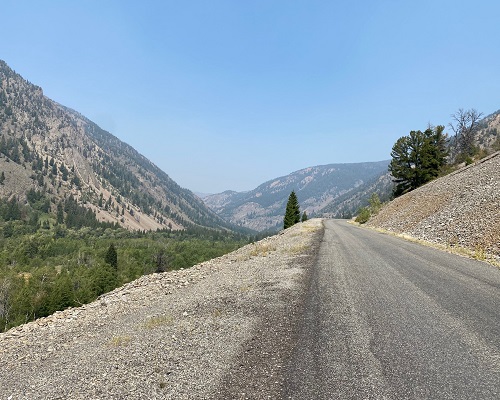 The First Part Of the 5 Mile Climb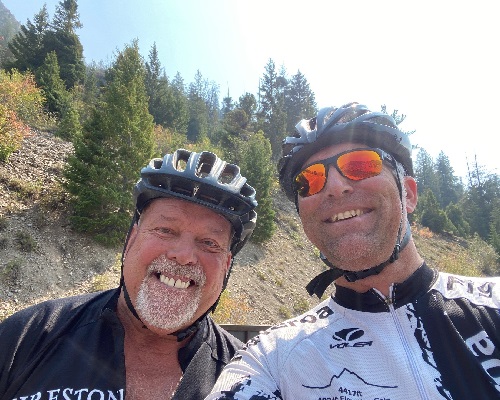 The Turnaround Before Heading Back to Town
After work that night, we made sure to get out early enough to eat dinner. Diana found a Mexican restaurant. I was a little leary being that we're from one of the best Mexican food locations in California. The walk was hot, the weather was heating up as the weekend approached and this restaurant felt like it was 10 miles away, we literally melted. Thankfully they had beer on draft so we order a pitcher. The food was actually really good. I ordered a chimichanga, a fried burrito; in CA these are the size of a Mack semi truck, this one was about the size of a Ford Pinto. It was still very delicious and probably helped not inflate the tire around the middle.
On the way back, we walked Main Street. The night before, the locals said there was a country band playing at Whiskey Jacques' across from the Casino; the previous night it was closed for a private party. Given that I had a lucky experience with Alter Ego in Vegas I thought I'd give it a shot. I head in and since I was a tad early there was no cover charge. and there was NO one there. I sat at a tiny high top with a beer and starting looking through work email, the stuff people do on Friday night right?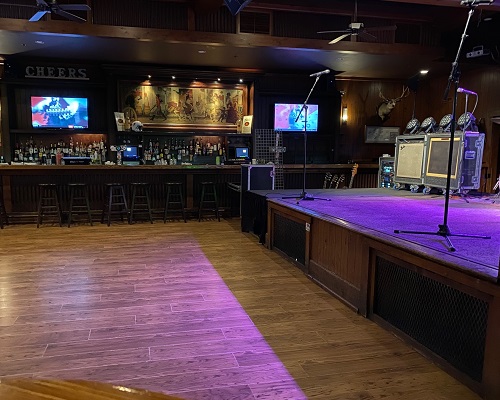 Whiskey Jacques Empty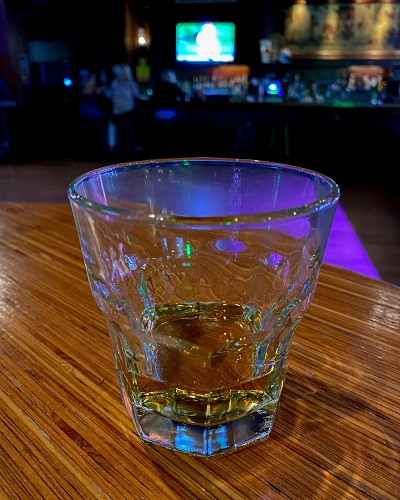 Drinking By Myself Checking Email
About an hour goes by and people start rolling in, now it was packed. A group of people about my age, maybe a little older, asked if they could share the table with me, of course. Woody the "ice chest" made sure the table was always stocked with Coors Lite, it was one of the wife's birthday. Great people. The band kick's off, and they were shit kicking good. The Powell Brothers out of Texas were country rock and rock it they did. They did a few cover songs but mostly their own originals. I couldn't believe it, two free concerts in 5 days! How could a bike trip get any better???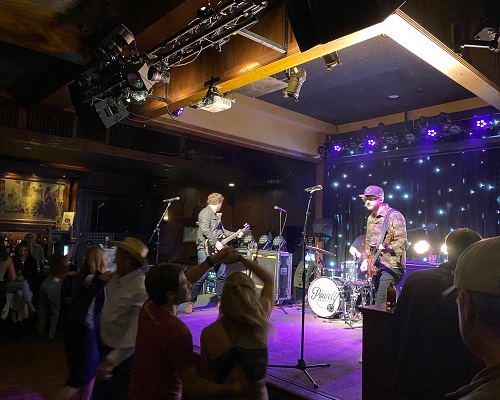 The Powell Brothers at Whiskey Jacques
Saturday The Tater Tot Welcome Ride
The weekend here is at last! No work! Rebecca's Private Idaho had races starting Thursday so it was a whole week of activity. In addition to that, Ketchum had Old Wagon Days which was going on, the town was bustling. Saturday morning was a roll out ride along the short coarse call the Tater Tot. Bruce's old colleague Travis came out from Boisse to ride this event. The three of us met up at 8am for this opening ride.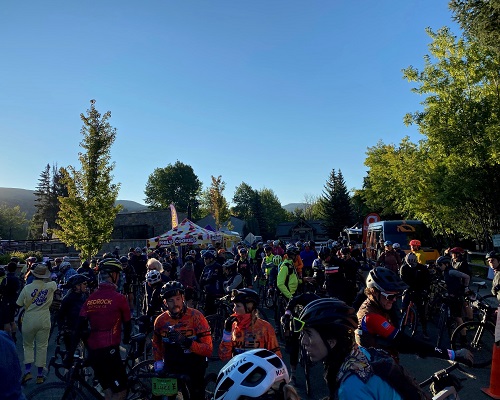 Saturday Tater Tot Rollout
It was cooled, VERY cold, 30 degrees cold! Not the coldest I've ridden in but enough to chill the bones. People were using the free socks they handed out as finger warmers. Rebecca Rusch, 7x world champion, has everyone stop at the road to dirt intersection for a photo. She's packed with enthusiasm which warms the atmosphere. This event is the coolest bike ride I've ever done. Rebecca had events for paraplegic and non-binary to name a few. I met one of the paraplegic cyclist, Megan Fisher which had a carbon fiber leg clipped into an SPD pedal on a gravel bike, it was so cool! Little did I know she's a gold/silver/bronze Olympic athlete!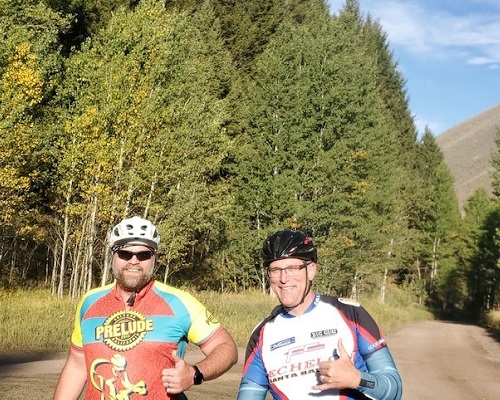 Travis and I On The Tater Tot Dirt
The group continues down the 50% of the Tater ride which is dirt. Bruce and Travis get part way along then turn back to check out the French Fry course while I continue on to see what the dirt roads are like in this area. Back home we have some dirt sections, Refugio Climb one of which is 10%+ grade and was worse road conditions which I've done many times on my my Specialized Tarmac SL4 racing bike so I'm feeling pretty confident. I talk to a bunch of people doing the 56 and 100 mile course, both of which share a lot of the same route. It was good insight to give Bruce. I head back down. The dirt downhill is always the worse on 100psi 700x23 tires, slow and easy with your butt off your seat and staying in the drops.
Eventually, I get down to the intersection where the road starts so I pull over to check my bike and drink some water. That day I had randomly worn my Echelon jersey, a bike club out of Santa Barbara CA. This jersey was easily over 20 years old but still fit well. As I get back on my bike, three ladies across the street call out "Hey Echelon guy, come over for a minute." I'm thinking "OK, what would they want from me?".
The first thing one of them says is "I ride for Echelon. I was riding with them before they were a formal group." Wait, WHAT??? I'm in the middle of a small town in Idaho, some 1,000 miles from home and I'm meeting a long time Echelon club rider? She introduces herself as Jill Gass, not only that she says she works at Cottage Hospital in Solvang CA and also lives there. Wait, I live 5 minutes from Solvang! Things are getting a little weird around here.
Meanwhile, Jill goes across the street and in my head her name sounded familiar but I couldn't place it. Her wife and I started talking about local stuff and she happened to mention that Jill used to race. Bingo! The nuclear light bulb goes off. In amazement I rattle off "Jill Gass, she raced with Sue Fish and Kathy Brown and knows Shelley Veres!" This world couldn't get any smaller. These women are legends!!! Just like Rebecca, a book should be written for each of these amazing women.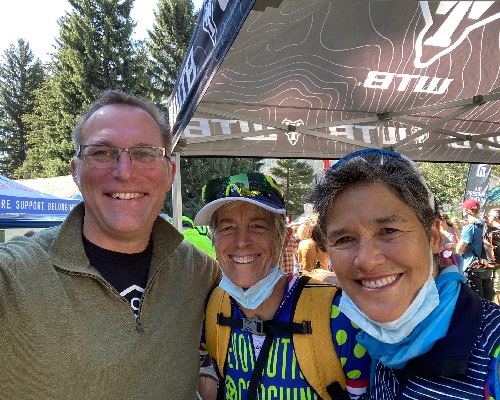 The World Gets Smaller Every Day
My mind was totally blown from what just transpired. I get back to town and check out all the cycling booths; I ended up buying the coolest tool by Wolf Tooth.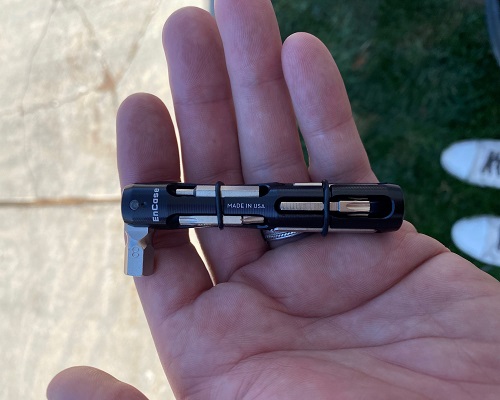 EnCase Tool - Will Come In Handy Very Soon
Rebecca has a riders meetings at 12 which I attend. It was really good talk, SHARK was her word of the weekend: Safe, Honest, Accountable, Responsible, Kind. After the meeting I run into Jill again and ask to get Shelley's cell number because I couldn't believe what just happened. Later on I happened to be at the booth where Rebecca Rusch and Mirna Valerio are signing a children book. I got one and read it that night, amazing women. Reminded me that some day I hoped Shelley would write a book.
One of my best friends, Adam Hsheih, and racing buddy from college, also happens to live in the building with Shelley. I immediately text both of them and recount this coincidence. They both laugh. About 30 minutes go by and Shelley calls me. We start talking about all of these connections between seemingly independent people. I'll save the stories about Adam, Shelley, and Sue for a page on my college cycling years.
So this is where I need to pause and come full circle to the beginning of this story and John Jones, in heaven I hope he is listening. It turns out that Shelley and John are long time friends, like over 30 years. Before I knew this, I had filled Shelley in on the whole wheel ordeal, how he passed away just after seeing him, and the memorial ride. She lights up so I know she has something to say. She tells me a deeper story about John Jones and how he didn't know he had liver cancer until it was too late. Johns' wife had called Shelley days before he passed and Shelley was able to see him before passing on. It was so touching to hear this deep connection between seemingly unconnected people. It bring tears to my eyes when talking about John for this reason I dedicated this ride to him.
Shelley Veres - First Female Soigneuse (YouTube Video)
After the whirlwind of emotions, I meet up with Bruce and Diana again. I mentioned to Bruce he should pick up some gravel tires for the ride. Fortunately his bike can fit those tires. He ended up having to go to two bike shops and none of them had new tires, one shop had a set of used ones. Thank god cause it was a life saver.
While Bruce, Diana, Travis, and Whitney where out and about, I took some time to check out the town. That weekend coincided with Old Wagon Days. We missed the parade but there was plenty of other activity going on.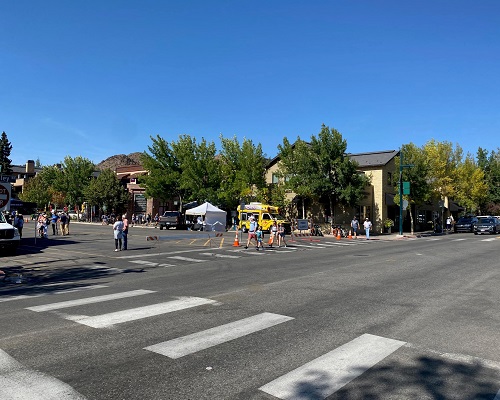 Wagon Days Setup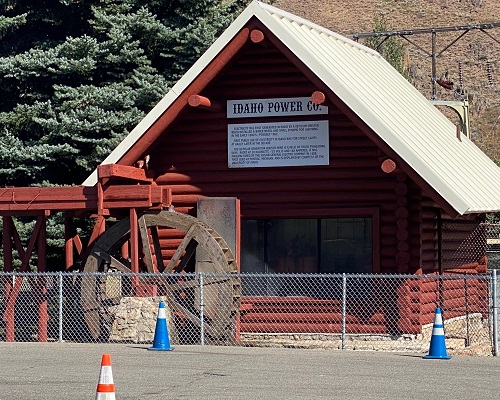 Wagon Days - Idaho Power Plant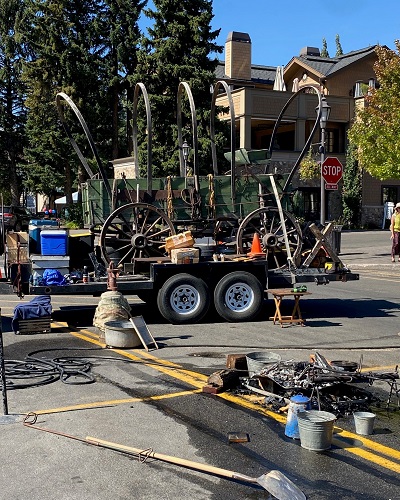 Wagoneer And Campfire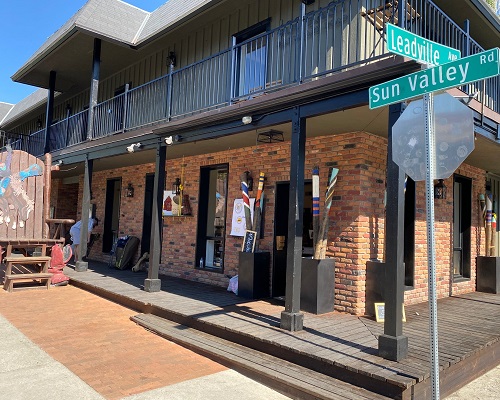 Downtown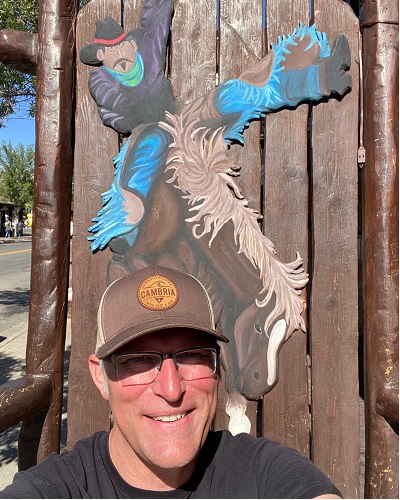 Cowboy Chair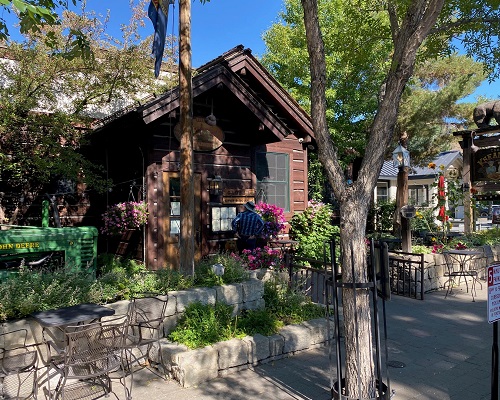 Downtown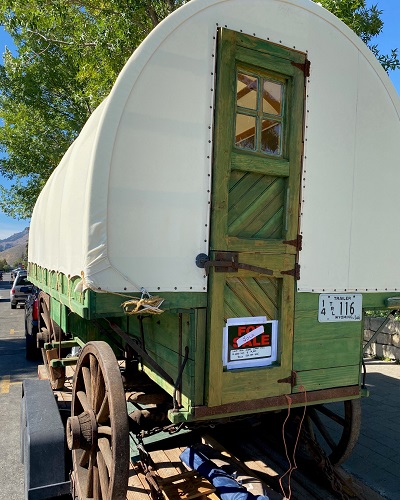 Wagon For Sale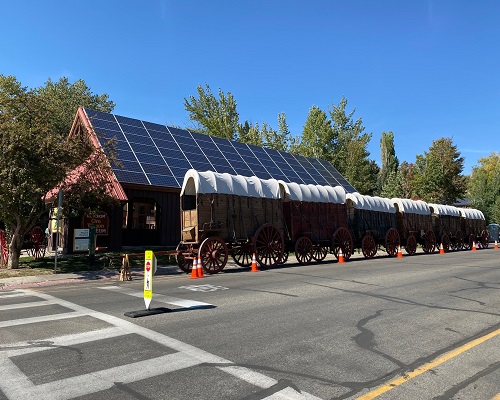 Wagon Express - Hauled Up to 18,000 lbs.
That night we had dinner with Travis and his wife Whitney; it happens to be Travis' birthday! We went to an Asian inspired restaurant, the food was good and not too heavy. Everyone was pretty tired after the days events, including Whitney who is expecting in about a month, so we all headed the the limelight for one last drink then headed home to rest up for Sunday's big ride.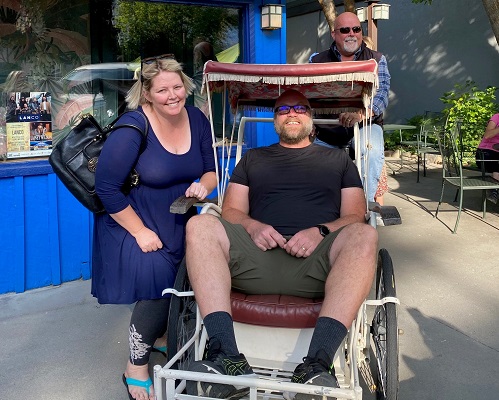 Bruce Gives Travis A Birthday Ride
Sunday - French Fry 56 Mile Epic Adventure
The big day is here and we're ready to rumble. We bundled up since it was really cold the morning before. It ended up being a little warmer, 40 degrees, and hotter during the day, about 85 degrees. Our goal was to complete the ride, no man left behind. I had suggested we start in the very back of the pack so we can go at our own pace. The 56 miler group left 15 minutes after the 100 milers; there was 1,500 people riding this day!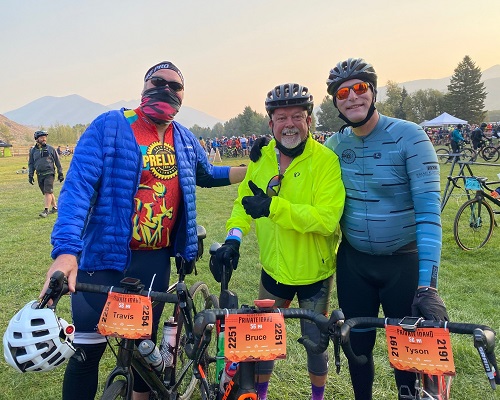 Looking Chirpy Before the Ride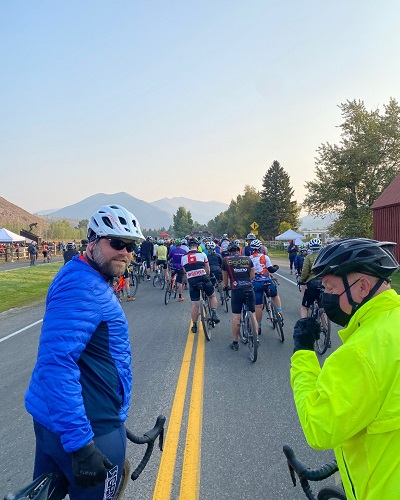 Bruce Gives Travis A Birthday Ride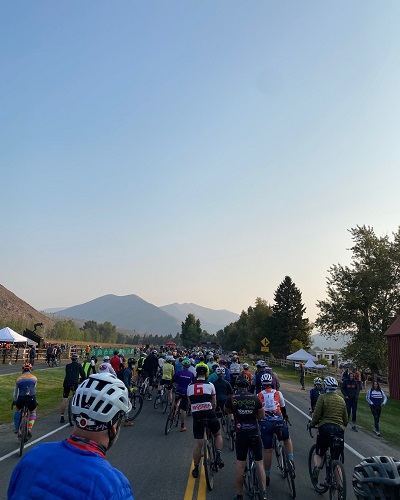 Bruce Gives Travis A Birthday Ride
We had a nice leasurely pace heading out. The big climb was within the first 12 miles, it was ~6 miles at about 7-8% and and 4.5 miles was pure dirt! It was a tough grind for Travis but he had some music to keep us grinding. Bruce motored ahead for a bit.
After a half hour Travis and I come across a couple stopped on the road with one of their bikes turned upside down. I pull over and see what's going on: flat tire. I asked them if they had a spare "Well we had a flat earlier but we gave it to the sag wagon and we don't have any patches". No worries, I had plenty of those! I tell Travis to keep going since it'll take a while to fix this tire and I'll catch up with him. We introduce ourselves to Christ and Joanne.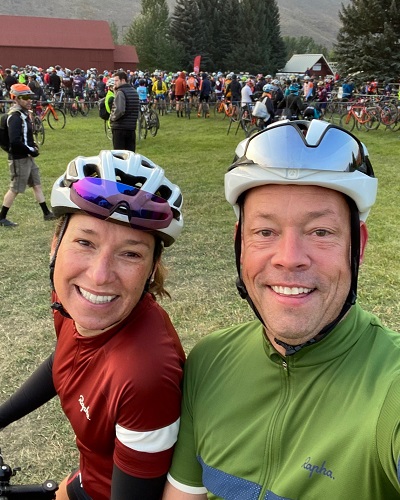 Christ And Joanne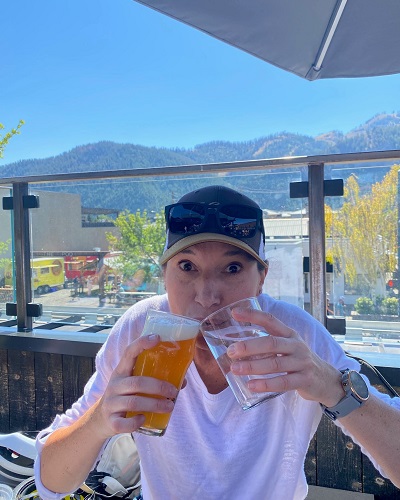 Joanne Enjoying Ketchum Like We Did
Christ and Joanne are awesome, he's from Texas and she's from Poland. Both of them are very fit. I asked if she could ride with Travis so he's not alone so she did which was really nice.
Meanwhile, I needed to get the wheel off. I've never worked on a gravel bike which doesn't have quick release. Good thing I had bought the Wolf Tooth tool! I was able to get the rim off in no time. Unfortunately it took Christ and I about 10 minutes to get the stupid tire off the rim, it was a Schwalbe tire; I HATE Schwalbe tires they are literally impossible to get on and off the rim, no except here.
Patching the inner tube took 1 minute. We finally get the whole wheel back on the bike and pumped up. We chatted about what we do, both of us are in tech, and it turns out he swam from Ohio State; I knew he was some type of beast athlete. I wish I had a picture of use during this bike repair ordeal. During our conversation I had mentioned the great dinner on Wednesday and the waitress that was so attentive, he looks up and says "Oh the French girl!" I started laughing.
We exchanged contacts then jumped on our bikes and motored up the mountain at 7-8mph. We were easily 30 minutes behind his girlfriend, Bionic Bruce, and Travis. We finally meet them at the sag stop at the top of the climb. Christ and Joanne road on while we hung out.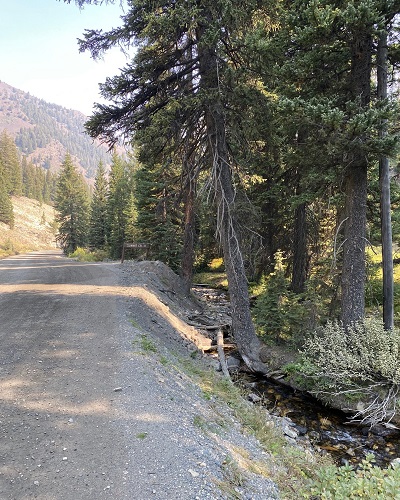 Decent at the Bottom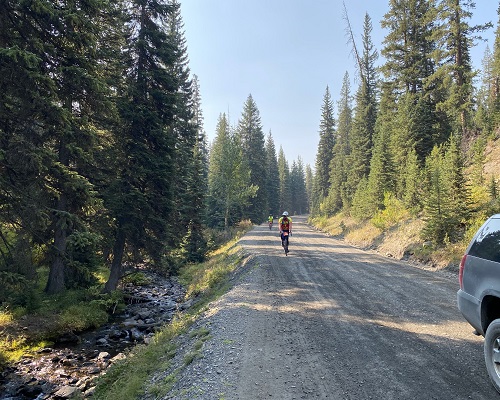 Travis Racing a Car Down The Hill
The steep downhill was slow going but beautiful. Once we reached the bottom the dirt was rather flat and slopped downward at about 2-3% average grade.
I had a sudden urge for this nearly flat pavement like dirt. It was full throttle time. I motored ahead hitting speeds of up to 40mph, it was awesome!!! Hauling ass. It was about 15 miles of this, I was easily 30-45 minutes ahead of them at the point I hit the next sag station.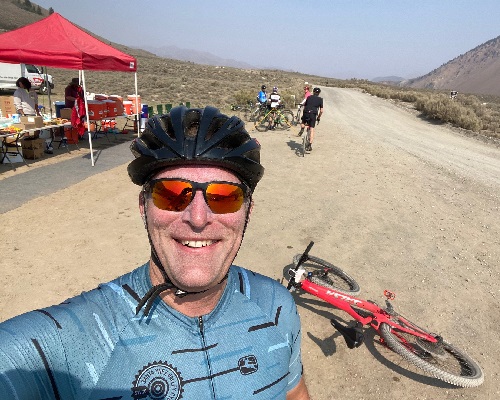 Last Sag Stop - Looking Good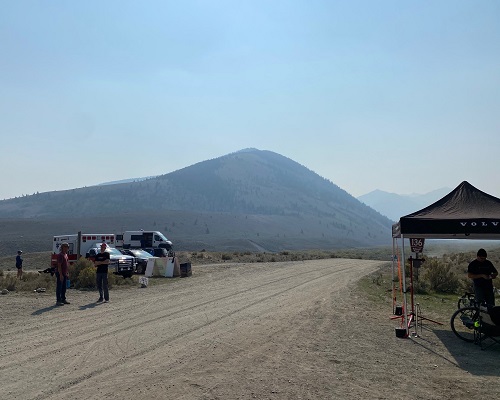 Last Sag Stop Looking at the Road From Hell
We were still the last people in the 56 mile course so I tell the support person that I was going to head out the 100 mile coarse and if he sees Bruce (he wore his neon yellow vest you could see him from outer space) or Travis to let them know where I was. He informed me there was a 3 mile out and back section everyone had to complete first, and it was into a head wind. No big deal right?
I couldn't be more wrong. I head out on this little segment and was on track to finish it in 15 minutes. 7 minutes in I get my first flat! Crap! Well I had a spare tube I could use before I dig into the patches.
As I'm patching my tire who should come rolling up the other direction, Christ and Joanne! Christ calls out "Hey you need a hand?", we all laugh cause we know they don't have any patches or tubes. Jokingly, Joanne tells him not to ask as that would take away my man card. We all laugh again, Christ feeling his man card was revoked the first time we met for the first tire patch.
I let them know I'm all good and that I'd see them at the end of the ride for a beer. I get the tire pumped up and I'm back on the dire, little did I know this was only the beginning of hell. Not more than 2 minutes go by and I get another flat. This 3 mile out and back section had spiky rocks and was hellish. At this point, I have to patch a tube. All in all, 40 minutes go by between the two flats and who should come riding up, Bionic Bruce! He and I ride to the end of the 3 mile stretch and turn around at the end, total single track style. We stop for a bit and chat about the last little sections of everything seem to be the worst, car and bike.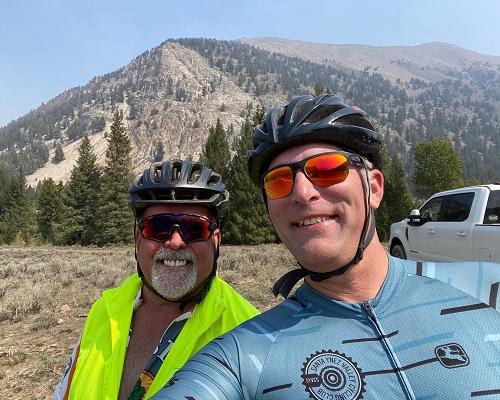 Half Way Point - Beautiful Views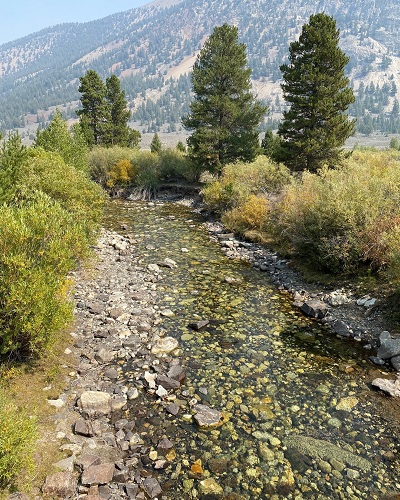 Half Way Point - River Crossing
We start back on the 3 miles stretch and not more than 5 minutes in I get my 3rd flat! WTF??? I thought karma didn't work like that.
Bruce knowing that I'll catch up with him says he'll meet me at the sag stop which is less than 3 miles away. Little did he know that he would be waiting there over an hour! I patch the tire which appeared to be holding. As soon as I sit on the bike "pssssssst", dead flat. I've patched over 1,000 tires in my lifetime and have never had this happen. I'm feeling like I'm on the Devil's highway to hell. The good news is it's a tail wind so if I could get the bike back together I'd be flying. The bad news is I can't hear a dang thing so patching the innertube is taking 10x longer.
I flagged down an elderly couple in their truck and asked them if I can sit in their truck so I can hear the leak. Obviously an odd ask but they oblidged. I find the issue, the patch is bubbling; these patches suck! I don't know where I got them but they're horrible. I patch the patch praying it'll hold be until the sag stop. I get the tire back together but ask the couple to stay to ensure it doesn't flat again. I ride about 1/4 of a mile and it's looking good so I give them the thumbs up. As soon as their truck is out of sight, the tire goes flat again. WTF x10??? At this point, I'm walking back to the sag station. I turn on my iTunes and jam out to Bon Jovi "Dead or Alive", how appropriate.
Eventually I flag down a minivan, not too many go by, and ask if he could give me lift 2 miles down the road. He and his son were out camping and happened to have a Yakima trunk mount bike rack, perfect! Meanwhile, poor Bruce is waiting for over an hour, feet soar (he didn't realize his cleats were worn out which caused him to force his toe into it to keep it pedaling!) and tired. Travis had turned around at this sag stop earlier so he was saved from the devil's highway; Travis ended up doing 45 miles of the 56 which is really good considering he doesn't ride as much as Bruce and I.
Luckily there was a bike mechanic at the sag stop. I asked him if he has any 700x23/25 tubes and he looks back and me with a "What are you talking about Willis?" stare. I think I was the only one out there on a road bike, let alone a race bike that couldn't even fit a 25mm tire on it.
Bruce is determined to finish this ride so once again he takes off knowing I'd catch him. At this point, I'm either going back in a car (not an option for me) or duct taping tires together. At one point the mechanic points over to some gravel tires and says "Can you get one of those on?", I chuckle and tell him I can't even get 25mm on my bike (if Rebecca ever reads this I'm sure she'll be thinking "what an goofball"). The mechanic finds a used 700x23 tube which might work but given the patches I had I wasn't going to chance it.
Eventually, we agree to just shove a 700x28/32 tube in there and see if it works. He also points out a crack in my rim which I knew about but at this point it was 5x larger (oh please John hold me together). We pump it to 100psi and it holds. I buy a spare big tube from him and pray to god that I don't have another flat. Fortunately the way back was flat dirt. Bruce is easily now 30 minutes or more ahead of me burning diesel! Meanwhile, we missed the cool potato launcher :(.
Joanne Firing the Idaho Potato Launcher
The pursuit to catch Bionic Bruce was afoot. The bad news is that we now had the nastiest of head winds, reminding me of the winds back home in Lompoc.
As I'm motoring along, I see a lady all by herself fighting the wind. On her jersey it said "My fabulous 50", it was her birthday weekend and she was doing the 100 miler! I blocked the wind for her which gave her legs a little rest. Eventually she had to peel off to finish the 100 mile coarse.
Bruce was no where in sight but I could see about 6 people all strung out fighting the wind. I caught up to one of them and instead of passing him, I asked him to stay on my wheel. Fighting a head wind before a big climb is the worst place to be. It was a lot of fun for me, I'd hadn't done a long pull in a while, reminded me of old college racing years.
I stayed at a pace that would allow him to stay on and we eventually started catching each person one by one. Each person got on the tail and hung on. It was cool! We have about 6-8 people in a line cutting through the wind. Eventually we caught up to Bruce who I could see in his neon yellow jacket and blinking light. It was a great feeling to motorcade all the way to the base of the hill.
Bruce and I had one last climb before the downhill back to Ketchum. It was a long grind after roughly 45 miles of dust, smoke, and heat, and it was a good thing he had gravel tires because that side of the mountain was looser and more technical. We made it to the top! It felt so good to know the rest was downhill.
We pull into the finish line, likely the last French Friers to finish, and the announcer, who is really pumped and enthusiastic, yells out "And here comes Bionic Bruce!". It was so funny and a great way to cap of the hardest ride Bruce had ever done. We hooked up with Travis and we all just looked beat. Being out in 85 degree heat, a lot of dust, and a constant haze of smoke from a near by fire left us parched and pretty hungry. Too tired to even take a picture.
As I was walking over to one of the food trucks to get my free meal, one of the guys, Greg Smith, from the road train came up and thanked me for helping pull the group into the wind. I told him it was my pleasure and I was glad I could help out.
These rides are more than winning, loosing, crashing, or anything that happens, it's about the adventure that happens between point A to B. Greg happens to be from Seattle, my daughter is going to University of Washington in Seattle, I will likely be seeing him in the near future...
The Long Trek Home
Our drive home needed to pass through Arizona to pick up a priceless package, Zeus! Since we didn't want to deal with the US-93 and how boring it was we decided to go through Utah on the interstate highways even though it would take 30 minutes longer. It felt like such a smother and faster drive.
Here is Zeus, the Johnston's new Dutch Shepherd. He was such a good boy in the car the whole ride back.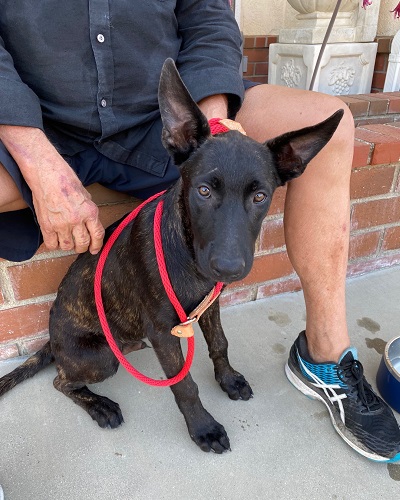 Zeus Johnston - Dutch Shepherd
On the I-10 while getting gas outside of Indio, there was a really cool military museum. I've been to Palm Desert, not more than 30 minutes away, and never new this way there.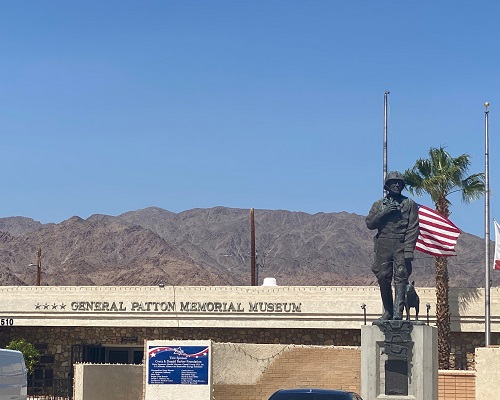 General Patton Memorial Museum